December 7th, 2023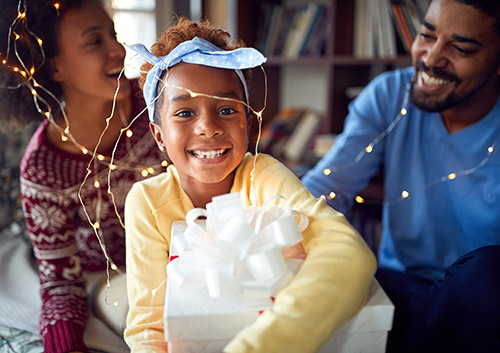 It's the holiday season! With so much to do and so much going on, you want to be at your best. We have some ideas to help make your season bright with a few easy tips for a healthy smile.
Keep Your Smile Merry and Bright
There's a lot going on during the holidays. Visiting friends. Traveling to see family. Parties and get togethers. With all the enjoyable festivities on your holiday schedule, you might be tempted to overlook brushing or flossing. But, please don't!
Many of our favorite holiday traditions and activities are centered around sharing good company, good cheer—and good food.
Indulging in more treats throughout the day, especially sugars and simple carbs, provides more fuel for the bacteria in plaque. These bacteria produce acids that weaken tooth enamel—the first stage of tooth decay. Plaque buildup also irritates the gums, causing swelling, redness, pain, bleeding, and chronic bad breath.
How to avoid these not-so-jolly consequences? Make time in your holiday schedule for dental care! Brushing twice a day for two minutes and flossing once each day removes plaque buildup and helps prevent cavities and gum disease.
Holiday Snacks—Naughty or Nice?
We're no Scrooges—enjoying holiday treats is one of the ways we celebrate. But since we're trying to prevent a plaque buffet of sugar and simple carbs, it's a good idea to add some healthier foods to the mix.
Whether it's platters of snacks around the game table or a stylish hors d'oeuvre array, don't forget to add nutritional, dental-friendly items to your plate. Options such as fresh fruits and vegetables, cheeses, nuts, and whole grain breads and crackers are great partners for more indulgent selections because they're lower in added sugars and provide vitamins and minerals to strengthen teeth and gums.
And from the candy bar? Hard candies and candy canes make our naughty list because they take a long time to dissolve while bathing your teeth in sugar. So do caramels, toffees, and gumdrops, which stick between teeth and gums. Soft chocolates? A much nicer choice, because they are more easily rinsed away by saliva or a drink of water. Which leads us to . . .
A Toast to Your (Dental) Health!
The holidays offer some of our favorite seasonal beverages. But spiced lattes, mochas, and hot chocolate can be full of sugar.
The answer? Enjoy in moderation, and enjoy with a glass of water. Water washes away sugars, neutralizes acids, helps increase saliva flow for tooth and gum health, hydrates, and, when it's fluoridated, protects and repairs your enamel. That's a lot of gifts in one convenient package!
Dashing through the Snow?
If you're taking to the slopes, or the hills, or the rink for a little holiday exercise, don't forget to protect your teeth and mouth. It's not just sports like football and hockey that cause dental injuries—it's any sport where you can fall or make contact with someone or something.
If you don't have a mouthguard, they're available at sporting goods stores in stock sizes or models that can be molded to your teeth. A custom mouthguard from our North Pole office is more comfortable, fits better, and protects you better. This is a perfect gift to give yourself so you can take advantage of all those cold weather sports with confidence.
We all look forward to holiday surprises—but not when they take the form of cavities, gum disease, or dental injuries! In the flurry of holiday activities, keep up with your regular dental care, and you'll be looking forward to a new year filled with happy and healthy smiles.