Top Reasons to Avoid Sleeping in Dentures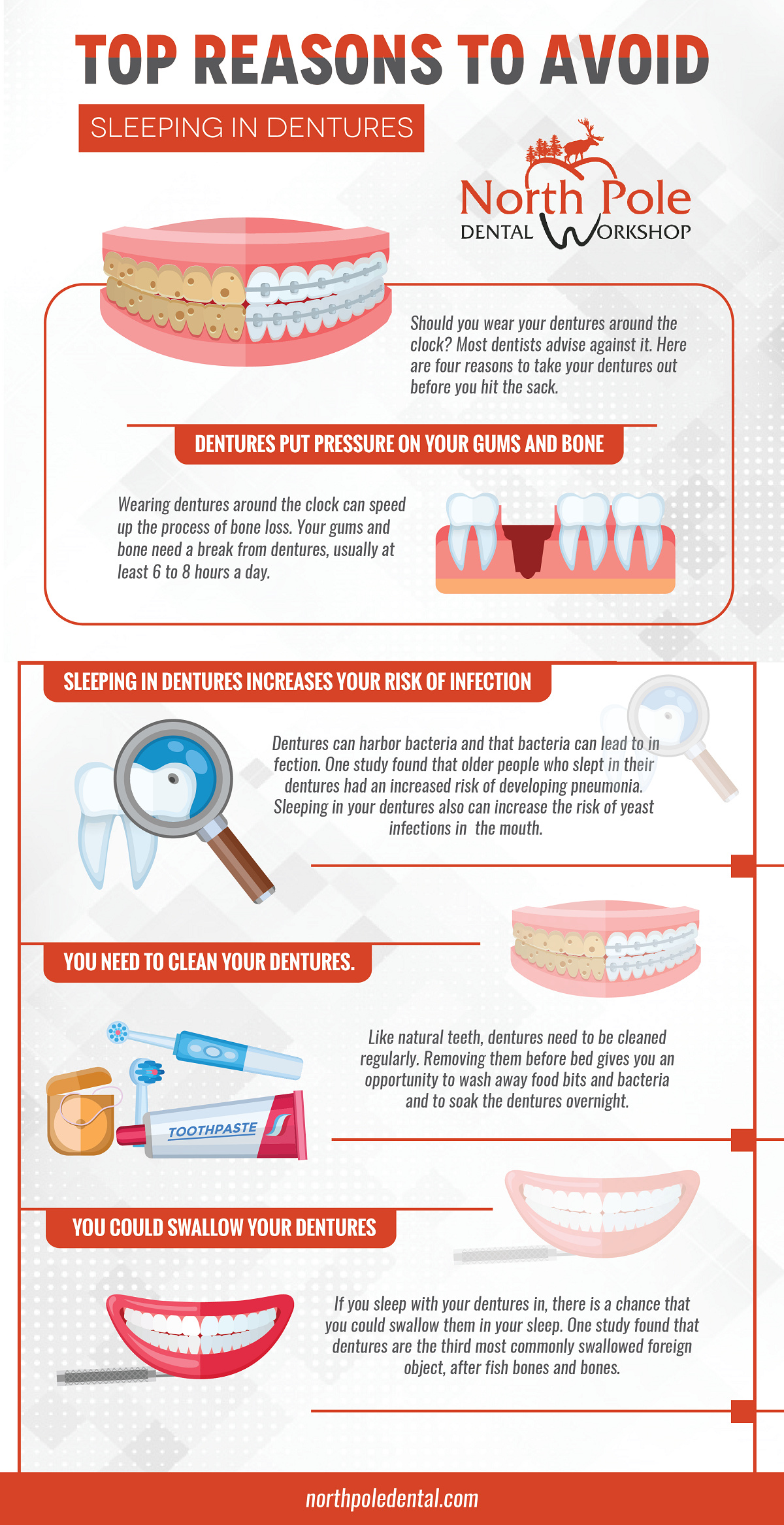 When you first got a set of full dentures, your dentist might have recommended leaving them in your mouth for at least 24 hours, advising you to sleep in the dentures.

After those first 24 hours have passed, though, it's not a good idea to keep your dentures in your mouth 24/7. Your gums and your dentures need a break. If you need more convincing, here are a few reasons to avoid sleeping in your dentures:
1. Dentures put pressure on your gums and bone. Your gums and bone need a break from dentures, usually for at least 6 to 8 hours a day. Wearing your dentures around the clock can speed up the process of bone loss. For many people, the best time to get that break is while they sleep.
2. Sleeping in dentures increases your risk of infection. Dentures can harbor bacteria and that bacteria can lead to infection. One study found that older people who slept in their dentures had an increased risk of developing pneumonia. Sleeping in your dentures also can increase the risk of yeast infections in the mouth.
3. You need to clean your dentures. Like natural teeth, dentures need to be cleaned regularly. Removing them before bed gives you an opportunity to wash away food bits and bacteria and to soak the dentures overnight.
4. You could swallow your dentures. If you sleep with your dentures in, there is a chance that you could swallow them in your sleep. One study found that dentures are the third most commonly swallowed foreign object, after fish bones and bones.
If you have dentures, seeing your dentist regularly for exams and checkups is essential for the overall health of your gums and mouth. North Pole Dental Workshop (formerly Alaska Dental Arts) has been serving patients in the North Pole, Fairbanks, Fort Wainwright, and Eielson Air Force Base Alaska areas since 2009. Our goal is to make sure you and your family receive the very best oral health care. We're open from 8:30 a.m. until 4:39 p.m. Monday through Friday. Contact us today to schedule your next visit and for a dental diagnosis and checkup.