A Comparison between Sleep Dentistry and Sedation Dentistry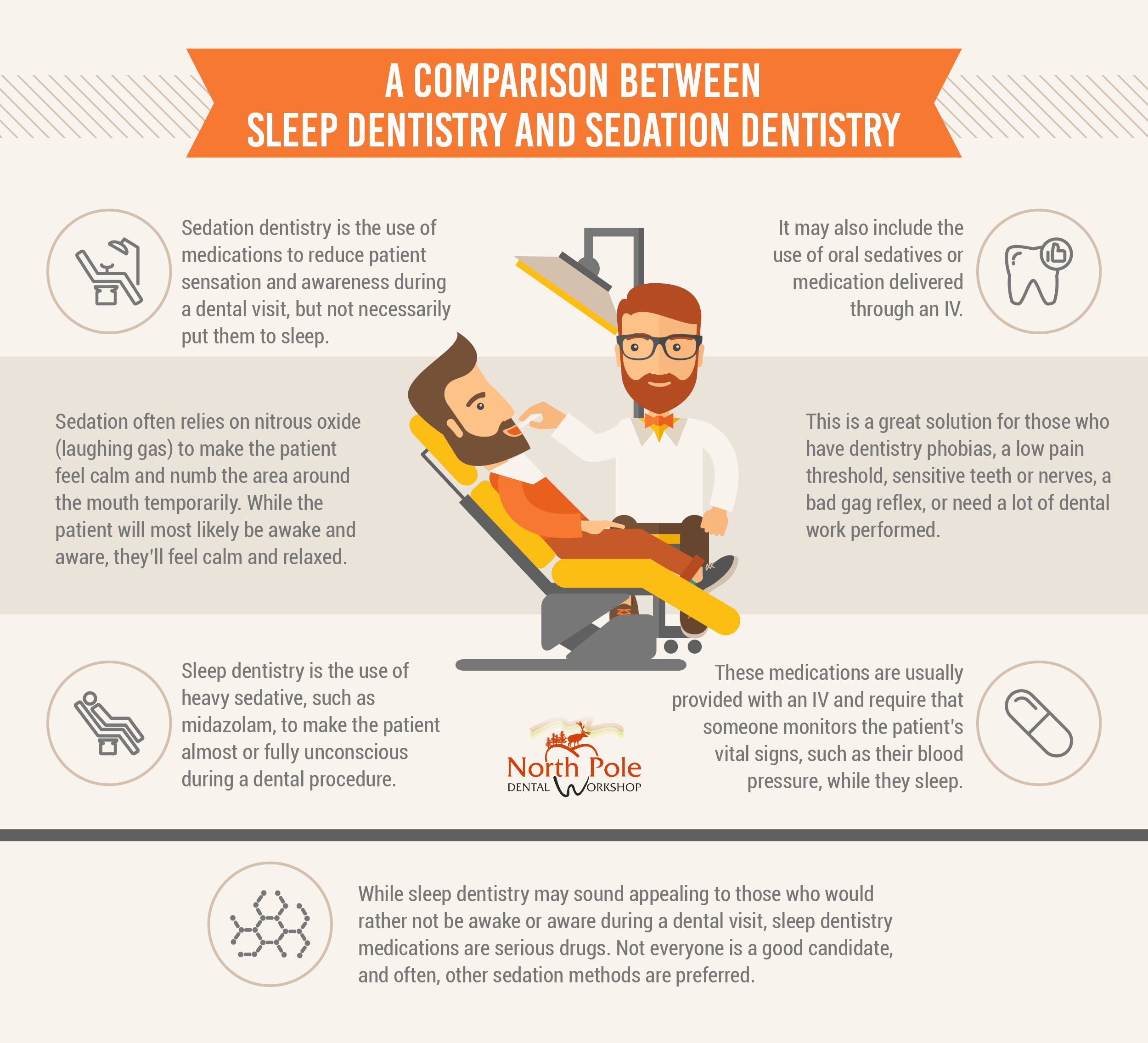 Sleep dentistry and sedation dentistry sound like two terms for the same thing, but there are some differences. Keep reading to learn what they are and which is right for you.
Sedation Dentistry
Sedation dentistry is the use of medications to reduce patient sensation and awareness during a dental visit. While the patient will most likely be awake and aware, they'll feel calm and relaxed.
Sedation often relies on nitrous oxide (laughing gas) to make the patient feel calm and numb the area around the mouth temporarily. It may also include the use of oral sedatives or medication delivered through an IV. This is a great solution for those who have dentistry phobias, a low pain threshold, sensitive teeth or nerves, a bad gag reflex, or need a lot of dental work performed.
Sleep Dentistry
Sleep dentistry is the use of heavy sedative, such as midazolam, to make the patient almost or fully unconscious during a dental procedure. These medications are usually provided with an IV and require that someone monitors the patient's vital signs, such as their blood pressure, while they sleep.
While sleep dentistry may sound appealing to those who would rather not be awake or aware during a dental visit, sleep dentistry medications are serious drugs. Not everyone is a good candidate, and often, other sedation methods are preferred. However, sedation dentistry is safe for almost everyone.
Comprehensive Dental Care
If you're nervous about dental care, call a sedation and sleep dentistry clinic to learn about the use of medications to keep you calm, relaxed, and pain-free during your visit.
North Pole Dental Workshop offers a wide spectrum of oral care treatments, including routine cleanings, cavity treatments, and advanced sedation dentistry. We can provide your entire family with routine dental care, diagnostic services, and even emergency services in North Pole, AK. And yes, if you're a good candidate you can be sedated during most of your dental treatments. Call us today at 907-490-4650 to schedule an appointment, meet our dental staff, and get caring dental care to improve all aspects of your oral health.